About
We (Hayley Field and Jacqueline Utley) are artists working collaboratively as Obscure Secure. Our practice based research explores the visibility of women artists in collections.
A meeting with curator Emma Roodhouse in 2013 brought an opportunity to look at the work made by women in the collection at Christchurch Mansion, Ipswich (2014). The following project, Red Studio Enquiry, focused on Mary Potter (1900-1981) and enabled us to spend research time working in residence in Potter's home and studio (part of Britten Pears Arts) before sharing findings at a symposium event (2017) and on the Obscure Secure website.
In 2017 we started researching the artist Kathleen Walne (1915-2011), whose work is included in the collections at Towner Eastbourne, Salford Art Gallery and Auckland Art Gallery. and will be part of A Life in Art: Lucy Wertheim and Reuniting the Twenties Group exhibitions at Towner in 2022.
We will be working in residence at Towner Eastbourne during the Wertheim exhibitions, sharing our research processes, and inviting visitors to become active researchers. We will reveal our findings through a new publication launched in September 2022 at a discussion event, which will focus on issues around gender imbalance and the underrepresentation of women artists in collections.
The current project, funded by Arts Council National Lottery Project Grants, will connect with Towner's upcoming exhibitions around gallerist and collector Lucy Wertheim.
The project Obscure Secure was initiated by artists Claudia Böse, Hayley Field and Jacqueline Utley.
Hayley Field paints in response to observations, memories and events. Her work emerges through a prolonged process and considerable re-working, often surfacing isolated figures and shapes. Her collaborative practice has allowed her to share her interest in process through an exploration of other women artists practice. She has worked extensively in participatory arts.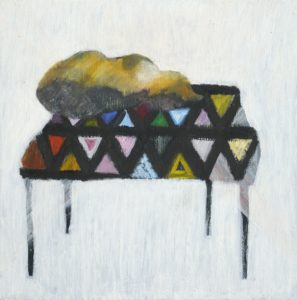 Hayley Field, Victoria Road, oil on board, 20 x 20cm, 2014
Jacqueline Utley mostly makes small scale figurative paintings – her most recent paintings work with narrative  and evolve from a multiple of references and sources these include , women's lives, autobiographical, feminism, the everyday and non-hierarchal space.  Alongside a practice based research enquiry looking at women painters and their lack of representation in art history.
Jacqueline Utley, Fly Her Wings, Oil on Linen, 40 x 60 cm, 2020
The name Obscure Secure was taken from one of The Hawstead Panels at Christchurch Mansion, most available writing about the panels say they were probably painted by Lady Drury in 1610.  The panel 'Obscure Secure' has an image of a bear in a cave with the text beneath it. We decided to use this title because the words and image resonated with working with collections, where work is often hidden but kept safe.